Premium Whole Fruit Dipped in Smooth Greek Yogurt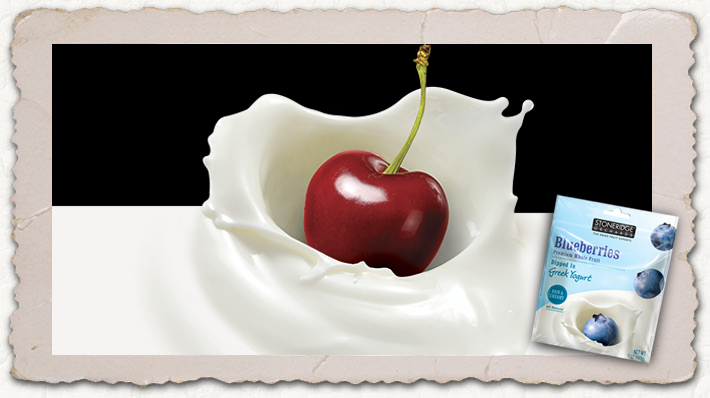 Premium Whole Fruit Dipped in Greek Yogurt

Premium, All-Natural Whole Cherries, Blueberries, and Cranberries Dipped in Smooth & Creamy Greek Yogurt!

Treat yourself, your family, and your friends to a deliciously smooth and slightly tangy all-natural treat!

If you enjoy the smooth and creamy taste of yogurt and fruit, try our delicious NEW premium fruits lightly dipped in smooth and creamy Greek Yogurt! These treats are definitely an unexpectedly affordable luxury that works equally well as a mid-afternoon energy boost on your favorite hiking trail, or on an evening party-platter while your family watches a favorite movie! You, your friends and family will love them!

All Natural, without artifical colors or flavors. No hydrogenated oils. No sulfites. Kosher-Dairy Certified


Deliciously Different Because We Use Whole Fruit and Lightly Dip It in Greek Yogurt!

Some companies take short-cuts. We Never Do! Our Premium Fruit Dipped in Greek Yogurt is always WHOLE FRUIT! Don't be fooled by competitive products that make "gummy candies" from a concoction of fruit juices and pectin! We use NO fruit juices or pectin – just premium whole fruit. And, we have more fruit in every bite since we only lightly dip each piece of fruit into out Greek Yogurt.
Whole Fruit Grown by 3rd Generation Family Farmers – lightly dipped in Greek Yogurt!

For a deliciously different taste sensation… try Premium Whole Fruit Dipped in Rich Dark Chocolate!