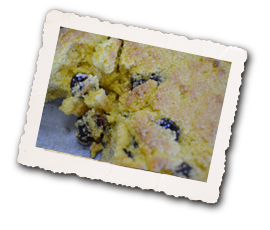 Breads and Desserts
Cherry Cornbread
Ingredients
2 cups corn meal
1/2 cup pastry flour
2 1/2 tsp baking powder
1 tsp salt
2 tbsp sugar
1 1/2 cups milk
2 large eggs
5 tbsp butter, melted
1 1/2 cups stoneridge orhards dried montmorency cherries
Directions
Mix together the dry ingredients
Mix together the wet ingredients and gently mix into the dry ingredients
Fold in the cherries
Grease and line a 9
Pour in the batter and bake at 400 degrees for 25 minutes
Helpful hint: More sugar can be added for a sweeter cornbread
Spray a nonstick 10- or 12-inch skillet and tops of each quesadilla with no-stick cooking spray.
Heat skillet over medium-low heat.
Place quesadillas in skillet, bottom sides down.