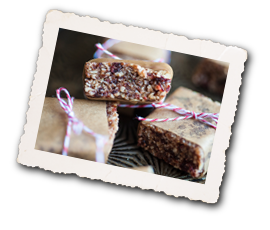 Amazing Appetizers
Cherry Almond PowerBites
Ingredients
2 ½ cups unblanched slivered almonds
1/3 cup ground flaxseed
2/3 cup dried cherries
1/3 cup dried cranberries
3 tablespoon raw hemp seeds
2 tablespoons honey
1 pinch of sea salt
2 tablespoon water
Directions
Place almonds, flax meal, cherries, cranberries, hemp seeds, honey and salt in food processor.
Pulse until ground and then pulse in water until the mixture begins to form a solid ball.
Press mixture firmly into an 8 x 8 inch baking dish -lined with wax paper.
Slice into bars and serve.
Makes 15 small bars.