A Family Tradition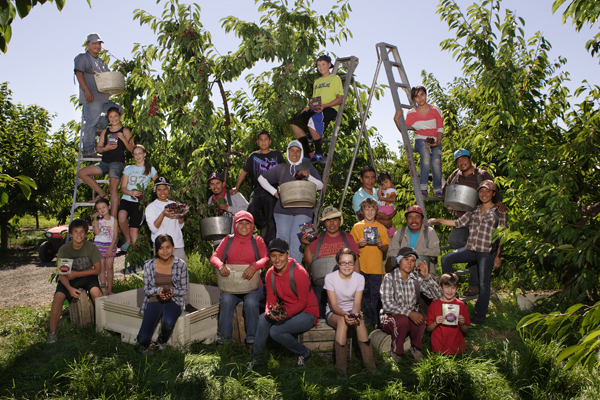 Stoneridge Orchards & Royal Ridge Fruits: A Family Tradition
Stoneridge Orchards and Royal Ridge Fruits have been all about family right from the start.
In the 1960s, Oregon logger Karl Dorsing and his wife Margaret [BD1] wanted a safer way to make a living and a future for their family. In 1962 the couple bought some land in Royal City, a high desert farming community east of the Cascade Mountains in Washington State. They moved there with the youngest five of their seven children, living in tents that summer while their new home was built.
That was the beginning of Dorsing Farms. Over the next five decades the family has watched it grow to 2,500 lush acres planted with cherry and apple orchards, blueberry fields and two blossoming businesses lines of dried and frozen fruit for the wholesale and consumer markets.
When they grew up, three of Karl and Margaret's children – Terry, Les and Curt – chose to join their father and make Dorsing Farms a family tradition. Today, the three brothers still have a hand in running the farm, but have turned over the company's reins to the next generation of Dorsings.
Terry Dorsing's sons -- Bryce and Patrick -- and Les Dorsing's sons -- Kevin and Scott – are the latest in the family to choose high-desert farming over big-city career paths.
Kevin Dorsing is president of Royal Ridge Fruits, the family's original wholesale fruit line. Brother Scott Dorsing is President of Dorsing Farms. Terry's son Bryce Dorsing is senior vice president for sales and marketing at Royal Ridge Fruits and Stoneridge Orchards, the family's newest venture: dried fruits for the consumer market. Terry's other son Patrick Dorsing is Vice President of Operations at the 2,500-acre family farm.
Marketing and Sales VP Bryce Dorsing had to think a minute to get everyone's official titles right. "We're not real big on titles around here," he said.
As the company has grown over the past 40 years, things have gotten a bit more formal in the family business. "If you want to be in the family business now, we have a formal process. You have to have a four-year college degree first, and then you have to come to work for the company for a three-year trial period. After that, your performance is evaluated and the entire board votes on whether you should continue on and become an owner," Bryce explained.
Patrick and Scott Dorsing both earned degrees in horticulture from Washington State University. Bryce Dorsing holds a degree in Agricultural Business from University of Idaho in Moscow. And Kevin Dorsing holds a business degree from Eastern Mennonite University in Virginia.
The cousins' combination of education and agricultural experience thanks to their upbringing are keys to the continuing success of the family's businesses – along with the environment.
The sunny days and cool nights east of the Cascade Mountain Range in eastern Washington are a one of the world's near-perfect places to grow stone fruits – especially tart cherries. Dorsing Farms grows and sells millions of pounds of cherries every year, and is famous for its tart Montmorency cherries. They're ideal for pies, drying and freezing.
Thanks to the bounty of their cherry orchards, the Dorsings launched their Royal Ridge Fruits line for the wholesale market in 2000.They now grow and source cherries and other fruit, then dry and package or freeze and package them for bulk sale. Their bulk customers are food industry buyers for commercial bakeries and as canned and frozen fruit and juice producers.
The family now has 1,500 acres in orchards planted with tart cherries – their biggest crop – as well as sweet cherries, apples and blueberries. Another 1,000 acres at Dorsing Farms is planted with wheat, alfalfa, and seed crops, plus a small peach orchard. The family peaches are only available locally. "We do a U-Pick every year for the neighbors and people nearby," Bryce said.
In 2004, the Dorsings added a commercial freezer to expand their frozen and cold storage Royal Ridge Fruits options. And Royal Ridge began drying its fruit for sale in bulk to commercial customers in the food industry ingredient market. They added a commercial drying oven at the farm in 2006 to keep up with demand, producing their own fruit along with top-quality fruits and berries grown in other locations.
The family's natural and organic cherries and blueberries were first packaged and sold in stores and online as Stoneridge Orchards dried fruits in 2010, moving into the consumer food market. The Dorsings now dry, package and sell cherries, peaches, blueberries, raspberries, pomegranates and strawberries under their own Stoneridge Orchards label.
Their natural and organic dried fruit lines have been such a success that the family is converting an increasing number of row crop acres into orchards. And they are transitioning more of their orchards to certified organic orchards.
It's a slow progression, Bryce explains. After planting, young cherry and apple trees need five years to produce their first crop. It takes three years of monitored organic farming practices before conventionally tended land can be certified organic by the Washington State Department of Agriculture.
The Dorsing family is committed to the shift. "We definitely see our organic lines as a growth sector in the coming years," Bryce said.
While business is booming, the Dorsings want to make sure they carry on the way their grandfather would want them to: producing good healthy food, treating employees and customers fairly, and remembering the business exists for the family – the family doesn't exist for the business.
"If you count up everyone in the family, there are probably 50 of us, and not everyone's still on the farm, obviously. We have a lot of folks in Seattle, one in Virginia and one in Minnesota. Most of us are in Washington, Oregon and Idaho," Bryce explained.
"But it's still the 'family farm.' It's our heritage, and everyone is really aware of that. All of us 'on the farm' live within about five miles of the original farmhouse. And the cousins who don't grow up on the farm still come and spend summers on the farm. It's a great place to run around and be a kid. You go out the door in the morning and you're playing with cousins all day until dark: running around, climbing trees, making forts, swimming, playing games, learning to drive tractors," he said. "I loved it."
At Christmas, most of Karl and Margaret's children, grandchildren and now great-grandchildren still descend on that farm for a big long weekend celebration. "We pack everybody in at all the houses here. It's usually snowing, so the kids get to go sledding and get outside. We play board games and cards and have dinners. For the big dinner everyone makes a dish and then we all get together at one house for one big night and a round-robin gift exchange."
All of the Dorsings are well aware that the business their grandfather started, and their summers and holidays on the farm, are a little slice of the American Dream. It's one they want to share with the rest of the country in the bounty of fruit they produce.
"We are very blessed, and we are very thankful," Bryce said. "The farm is still the center of our family. The cousins and the kids all still come back, and when you look around, we all feel like 'This is our farm. These are our trees. This is my heritage.' The rewards of having this family farm, the lifestyle it gives our family, is a real incentive for us to come back and keep it growing."
Comments